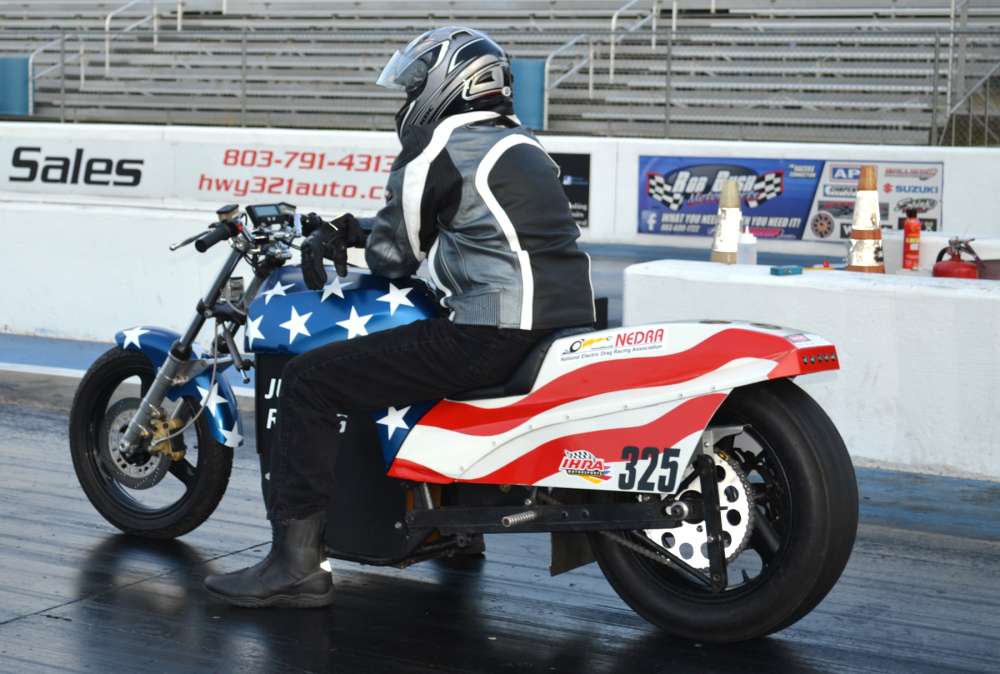 Congratulations to Ed and Tammy Fargo for their new electric drag bike build! Check out the videos below to see the power this bike throws down on the track. Very impressive!
Built By:
Juiced Drag Racing, SC, USA ( Ed & Tammy Fargo)
Build Specs:
- 1990s Small tire Kawasaki Ninja Drag Bike
- 118 V - 2 Chevy Volt Batteries packs from a wrecked car ( Budget racing at its best)
- ME1507 AC Motor
- SME 120V 750 A Controller
- Amp Sprocket 520BS11HT-1 1/8
- 11-66 gearing at the moment. We have 58, 62 and 66 Vortex rear gears to choose from.
- 7800 Rpm at the line, 1/4 mile
- 520 racing chain
- 360 Lbs w/o Rider
- 12.88sec @ 104 MPH.....so far. More tuning to go.
- NHRA, IHRA, NEDRA certified.
- It is a blast to ride!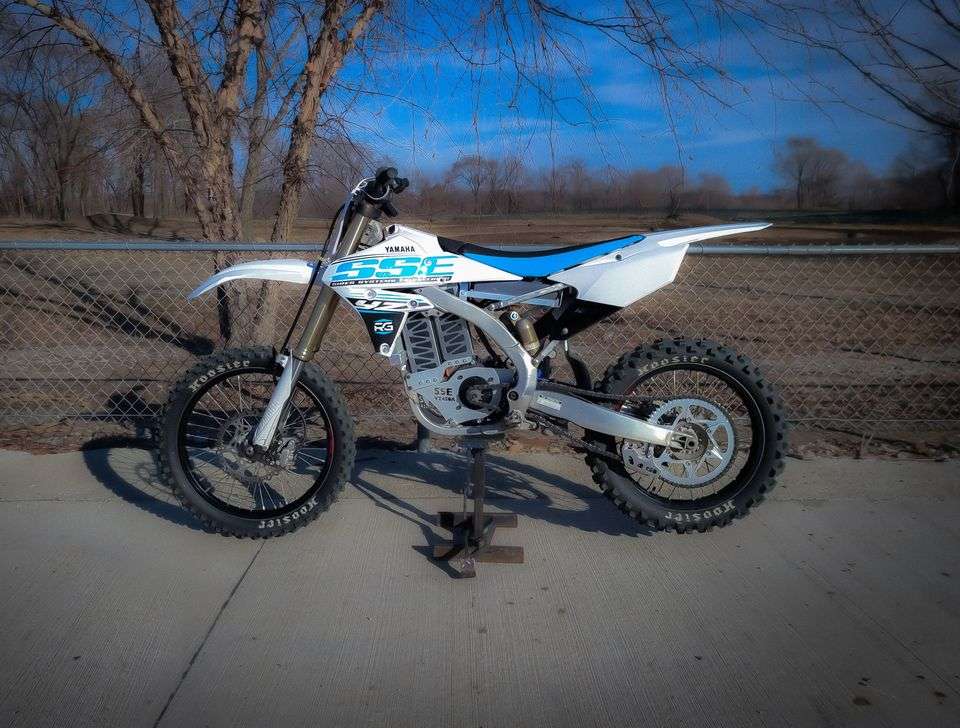 Congratulations to Dain Sires of Cedar Falls, Iowa on his conversion of a 2015 YZ450F! I absolutely love the clean look of the battery and motor mount treatments on this build. YZ's are one of my favorites and Dain has done an excellent job with the design, engineering and fabrication of this bike's streamlined and factory like finish. Feel free to comment and ask Dain Sires in questions in the comments below. Here are some details about the build.
Build Specifications:
- 2015 Yamaha YZ450F chassis/suspension
- Motenergy ME1304 PMAC Motor
- Sevcon Gen4 Size6 motor controller
- Domino Throttle assembly
- 3kwh 24S prismatic cell lithium pack (2x Honda Clarity 12S modules) 100.8V peak
- AMP 10T front sprocket, Vortex 60T rear sprocket - Cycle Analyst V2.4, remote shunt
- Decals by Rooster Graphics of Des Moines, Iowa
Performance Characteristics and Project Functional Requirements:
The goal of this build is to achieve a level of performance similar to a modern 450cc EFI fourstroke motocross bike for a period of 10-15 minutes of intense track riding. In current phase of tuning/build the performance is significantly higher than a 250F, but not quite to 450F levels of power. Low end torque is tolerable, the bike shines between 20-40mph. Next steps are to liquid cool the motor and add a heat sink to the controller.
For more information about Dan's company, SSE Sires Systems Engineering check out his FB page:
https://www.facebook.com/SSE-Sires-Systems-Engineering-215034522434851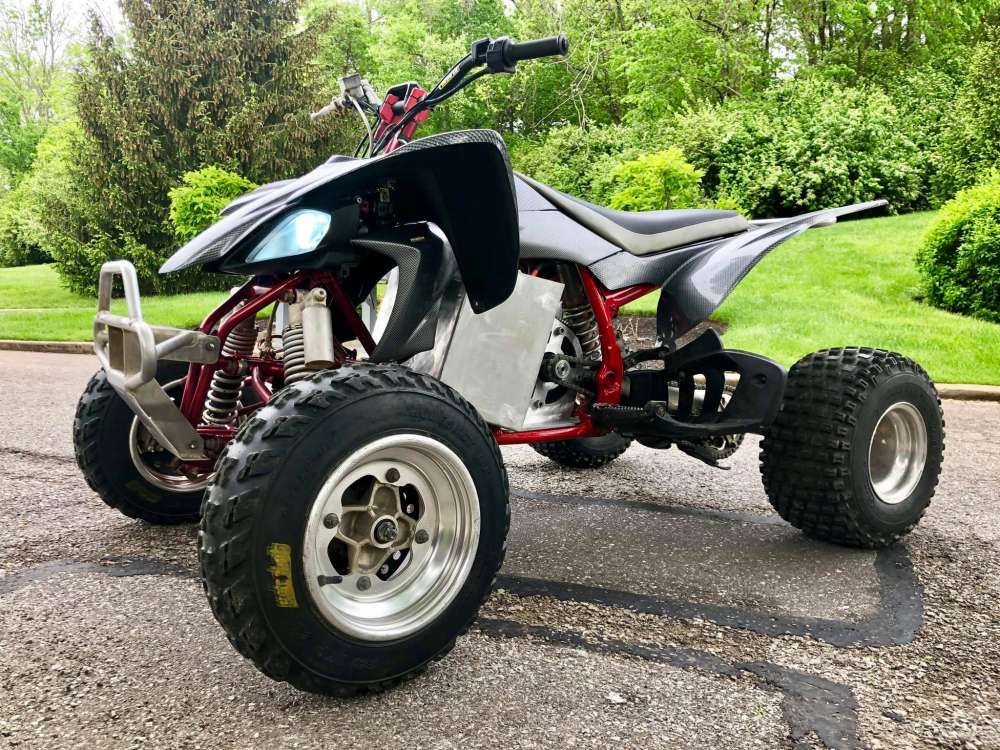 CUSTOM BUILD BY:
Daren Crigler, USA
BUILD INFO:
Similar to the Tesla Cyberquad but better. This video demos the custom 32kW custom electric quad built by Daren Crigler. This quad is the first of it's kind boasting a whopping 32kW of fully electric power. With a top speed of 70mph and an average range of 60 miles per charge.
BUILD SPECS:
- 2005 Yamaha YFZ 450 chassis
- ME1507 motor with RLS hall based sensor
- ASI 8000 controller from Electric Race Technologies
- 72v 60Ah 450a peak Nissan Leaf battery
- 32KW peak power
- Amp Sprocket 520BS11HT-1 1/8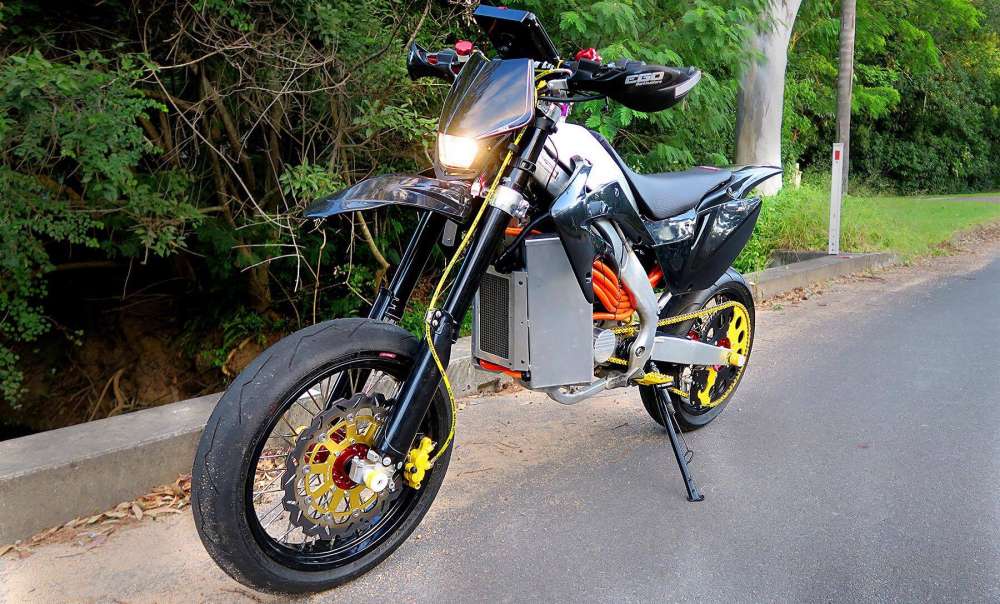 CUSTOM BUILD BY:
Sketch Coleman, Australia
BUILD SPECS:
- Crf250X frame - road registered
- Engineering in progress
- Capable of 54,000W
- Mobipus 72600 controller running 600a battery, 800a phase
- 90V Lipo capable of 1200A Peaks from Chris Jones
- Domino Throttle
- M Force Motor
- 72mm2 battery and phase cable
- 72T Rear sprocket with either 11,12,13,14T front depending on track
- 520 Xring chain
- Radiator & water cooling system & race lines
- 17" talon supermoto rims
- 7" dash tablet for tuning and gauges
- 10A dc-dc converter for 12V system
- 1000A contactor
- 0-100kph 2.9s recorded, 2.4 on paper
- Total weight 120kg
- 750NM torque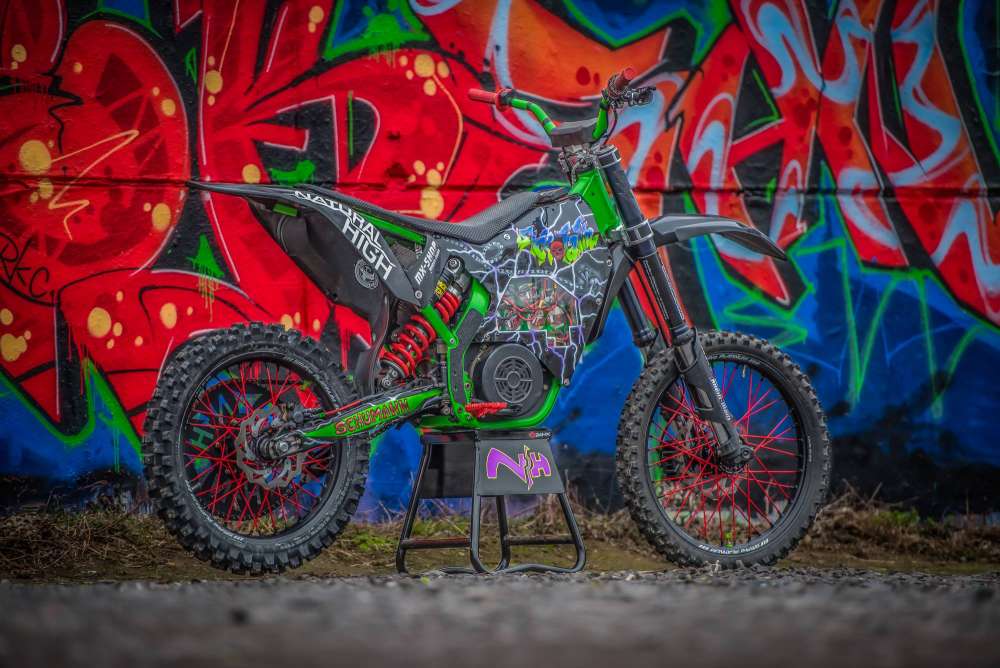 CUSTOM BUILD BY:
Ronny Showman, Germany
BUILD INFO:
- Chassis Ktm sx 07
- Mars brushless motor
- Sevcon gen 4 esc
- Lipo 22S2P 32Ah
- 104 kg
- Stiff suspensions for fmx
- 10 teeth Amp sprocket
- 76 teeth chainwheel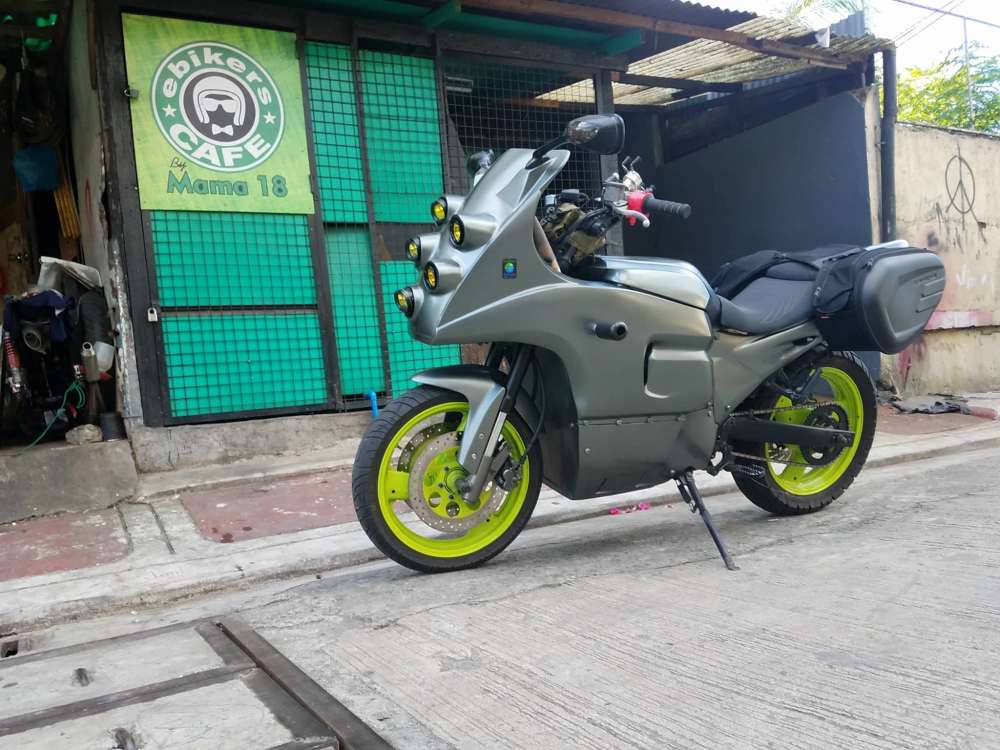 CUSTOM BUILD BY:
Gabriel Yeung, Philippines
BUILD SPECS:
- Donor Frame: Zhongshen 200 GS (modified with tubular steel)
- Motor: QS 171 100h 8000w Mid Drive
- Controller: Kelly 8080i 72v @ 700a peak
- Battery: 72v 90ah LifePo4 cells
- Body: Custom fiberglass farings
- Weight: ~300lbs.
- Sprockets: 13t front, 56t rear (geared for strong torque)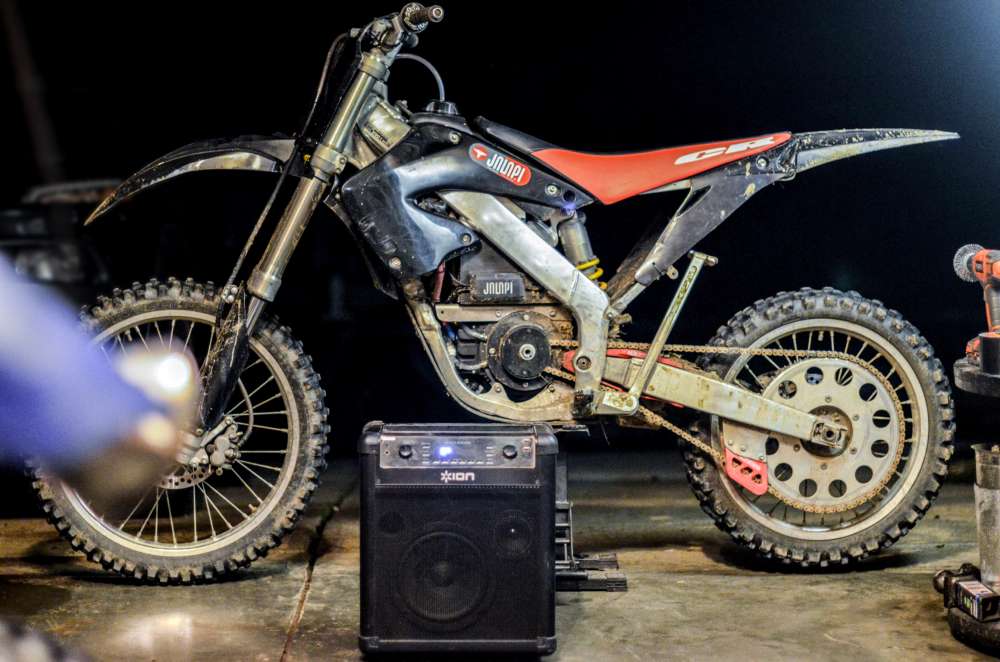 CUSTOM BUILD BY:
Daren Crigler
BUILD SPECS:
- 2001 CR125 chassis with custom motor mounts
- ME1304 Watercooled with factory radiator
- Mavel Star 12v dc Submersible Water Pump 163 GPH
- Silixcon 20S SL Controller - 30KW peak
- Custom forced air cooled 20S12P Sony VTC6 battery
- Cycra plastics
- 45-60min trail riding per charge
- 20-30min MX track riding per charge
- 46mph (Geared for torquey trail riding)
- 88t sprocket rear (Rebel gears)
- 11t front sprocket (Amp Sprocket)
- 90% charge in 60mins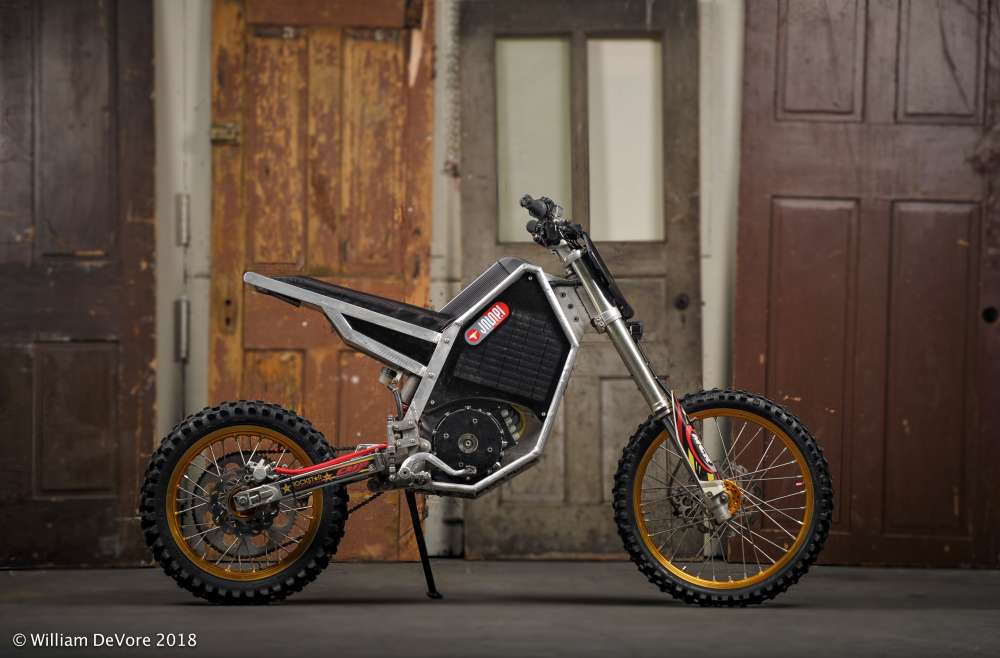 CUSTOM BUILD BY: Daren Crigler
BUILD SPECS:
- RM85L electric conversion
- Golden Motor 10KW BLDC
- Sabvoton 96150
- Custom 30S16P Samsung 25R5 pack
- Custom aluminum frame
- RM85L suspension
- 20KW peak (27HP)
- 230lbs. curb weight
- Geared for strong torque
- Top speed 70mph (112kph)
- 90% charge in 2hrs., 100% charge in 4hrs.